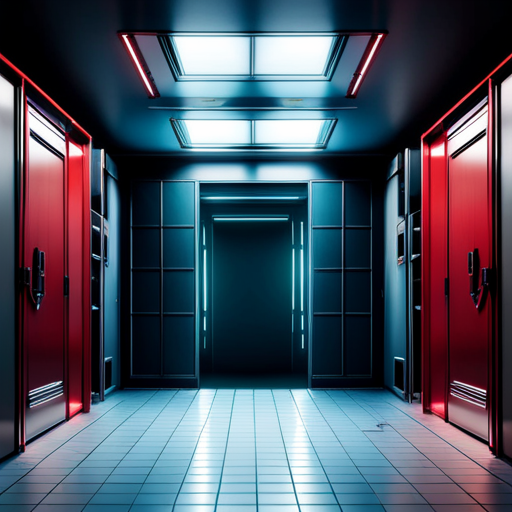 I've never left my home city. Born and raised in the neon-lit streets of Silverhaven, I've witnessed the rise and fall of this sprawling metropolis, its dark underbelly hidden beneath a facade of gleaming skyscrapers. Silverhaven is a city of perpetual night, where cybernetic implants glimmer beneath the pale glow of neon signs, and the air is heavy with the smell of desperation. It's a place where dreams come to die, and secrets thrive in the shadows.
My life revolves around the four walls of my tiny apartment, a dingy haven nestled amidst towering monoliths. The constant hum of the city filters through my cracked windows, a symphony of chaos that lulls me into a sleepless trance. In this city, sleep is a luxury reserved for the fortunate few, and I am not one of them.
But within these walls lies a secret, a secret room that holds the key to my salvation. It's a hidden chamber tucked away behind a false wall, concealed from prying eyes. This room is my sanctuary, my refuge from the relentless onslaught of Silverhaven's cruelty. Here, I find solace in the dim light that flickers from an old computer screen, the only source of comfort in this desolate existence.
Within the encrypted depths of the virtual world, I am someone else entirely. My avatar, known as Shade, navigates the sprawling network of cyberspace, a realm where reality morphs into twisted fantasies. I am a hacker, a digital outlaw who defies the oppressive regime that governs Silverhaven. In this realm, I am free.
But my actions have not gone unnoticed. The authorities have dubbed me a cyberterrorist, a threat to their iron-fisted rule. My movements are monitored, my every keystroke tracked. They will stop at nothing to silence me, to erase me from existence.
And so, I remain confined within the confines of my secret room, my only connection to the outside world the faint whispers that echo through the tangled web of wires and circuits. The city outside rages on, its denizens oblivious to the clandestine battles being fought in the shadows.
One night, as I sift through lines of code, a message appears on my screen. It's a cryptic invitation to a gathering of the city's most notorious hackers, a clandestine event that promises to unveil the truth behind Silverhaven's darkest secrets. Intrigued and wary, I accept the challenge, knowing that it may be the key to unlocking the chains that bind me.
The location is disclosed in a series of encrypted coordinates, leading me to an abandoned warehouse on the outskirts of Silverhaven. As I step into the darkness, I am greeted by a sea of faces hidden beneath masks and augmented reality overlays. Each hacker here is a legend in their own right, their names whispered with equal parts fear and admiration.
The room pulses with anticipation as a figure takes center stage, his voice modulated to conceal his identity. He reveals the existence of a secret corporation known as OmniCorp, an organization that controls every aspect of life in Silverhaven. From manipulating its citizens through advanced algorithms to orchestrating heinous experiments behind closed doors, OmniCorp holds the city in its iron grip.
The room erupts in anger, shouts of defiance and determination fill the air. We all agree that it's time to expose OmniCorp for what they truly are, to free Silverhaven from their clutches. With newfound purpose, we disperse into the night, each hacker armed with information that could dismantle the oppressive regime.
In the days that follow, we wage war against OmniCorp from the shadows. We infiltrate their systems, planting seeds of dissent and leaking classified documents to the public. The city teeters on the brink of rebellion as its citizens awaken to the horrors concealed beneath Silverhaven's polished facade.
But our actions have consequences. The authorities redouble their efforts to hunt us down, their surveillance networks closing in on our every move. Friends are captured, disappear without a trace, or meet untimely ends. Yet we press on, unwilling to let their sacrifices be in vain.
As the battle intensifies, I find myself drawn back to my secret room, seeking solace once more. The screen flickers to life, displaying a message from an unknown sender. It's a warning, a reminder that even within the confines of cyberspace, danger lurks at every corner. My heart races as I realize that my sanctuary has been compromised.
I hurriedly gather my meager possessions, erasing any trace of my existence within the room. With a heavy heart, I prepare to abandon the only haven I've ever known. As I step out onto the streets of Silverhaven, a city now teetering on the precipice of revolution, I can't help but feel a sense of trepidation and exhilaration.
The city pulses with newfound life, its citizens rising up against the tyranny that has plagued them for far too long. As I join the throngs of rebels flooding the streets, I know that our fight is far from over. Silverhaven may be my home city, but it's time to venture beyond its borders, to spread the flames of resistance to cities across the globe.
In this gritty cyberpunk world, where secrets fester beneath the neon surface, I have discovered my purpose. No longer confined to the walls of my secret room, I am finally ready to embrace the darkness and fight for a future where freedom reigns and secrets are laid bare.